1. Background
As the globe faces unprecedented challenges due to the spread of the novel coronavirus (COVID-19), countries across the world are put into a time testing situation. For Bhutan, under the profound and compassionate leadership of His Majesty the Druk Gyalpo, the adverse effects of such global pandemic have been steadily kept under control through astute measures and profound KIDU interventions.
Amid COVID-19 pandemic, His Majesty's concerns, noblest advice and constant field visits far and wide have really brought in effective preparedness and unfailing responses and relief for the people. The nation's solidarity and people's sense of involuntary loyalty, value of unity, team spirit and harmony have seen a mammoth of reassurances.
Of wisdoms, advice and concerns expressed by the His Majesty on numerous occasions, particularly during the field visits in the beginning of April 2020 and followed by address to the nation on 10th April 2020 have dovetailed to three key strategic themes, viz. Security, Economy and Preparedness (SEP) for any Contingency Plan development. These themes are fundamental to holistically combat any kind of worst case scenario in times to come or shall be basis to respond effectively to a significant future event or situation that may or may not happen.
Thus, to ensure a comprehensive and evident based Contingency Plan development and actions, the sub-themes and base data need to be created and establish 'single source of truth' and minimize complexities to respond, relief, recovery, prevention, mitigation and preparedness for all emergency situations, like COVID-19 pandemic as an example.
2. Objectives
The specific objectives are:
To provide a single platform to coordinate any emergency situation (as the system piloted in six eastern Dzongkhags now).
To minimize current reporting issues, particularly during the emergency situation.
To foster team spirit and resource sharing through an active online portal.
To guide development of comprehensive contingency plans aligning Security, Economy and Preparedness.
To alert and be informed of emergency situations for all decision makers and field staff on a timely basis.
3. Purpose
The Eastern COVID19 Coordination Office (ECCO), established in line with the Royal Command to coordinate the situation amid COVID-19 in six eastern Dzongkhags. To better coordinate and manage the situation, Control Rooms (CRs) were felt necessary and being set up at every Dzongkhag and critical Dungkhag levels, which shall report and update the situation and information on a timely/ daily basis. This system based on the visionary themes and scientific data collection means has been developed, consulted and piloted under six eastern Dzongkhags now.
In crust, the system aspires to resolve the current daunting issues of uncoordinated and multiple reporting to/from multiple agencies, entailing overwhelming, distressing and imprudent time and resource management at local government level.
4. Elements of SEP system
Considering the current context of data availability, the overall elements considered for the SEP system are exhibited as in figure 1 (below):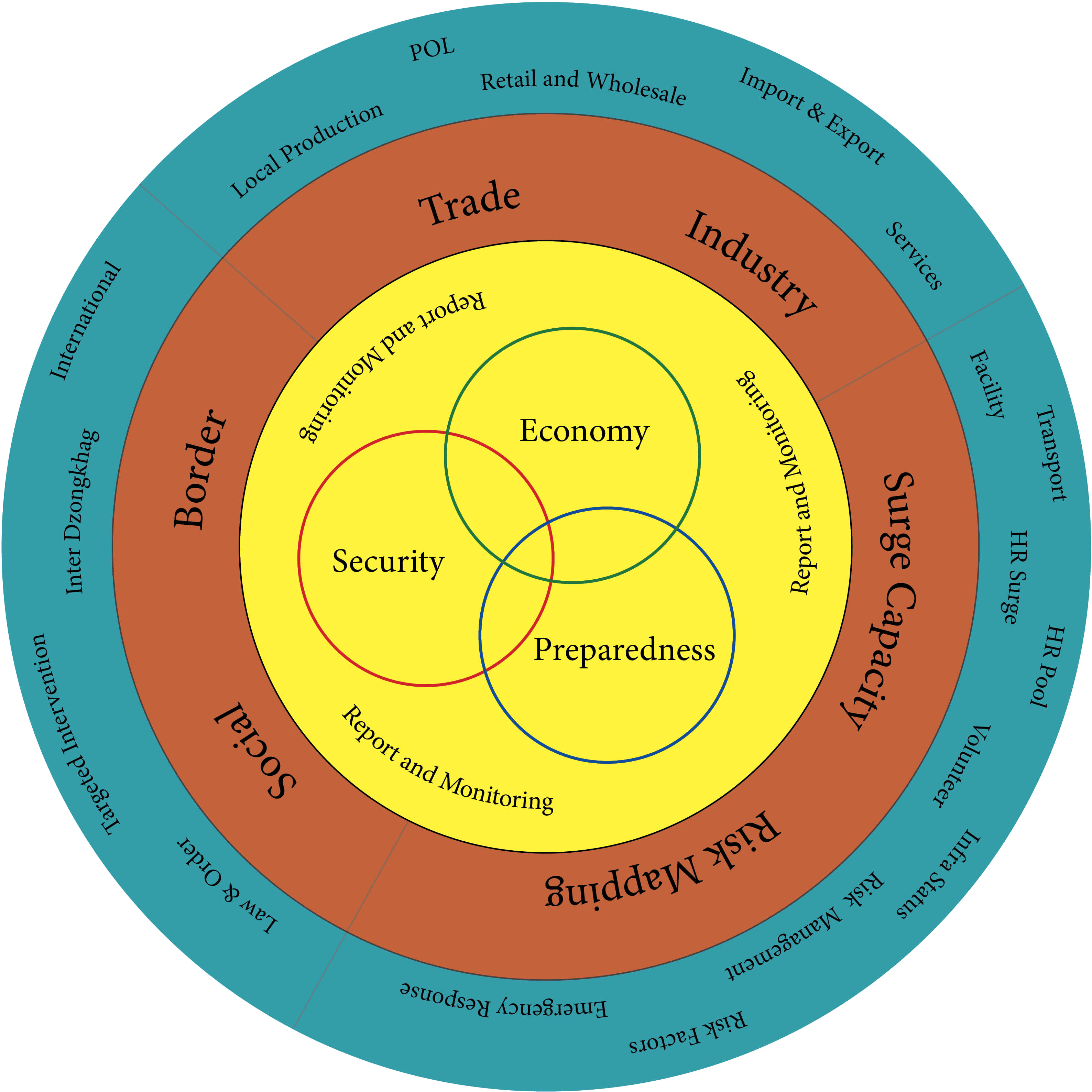 5. Analytical Purpose
The purpose of base data collections for SEP system is determined through purpose corresponding to each base data categories as indicated in the table below:
Theme
Sub-Theme
Base Data Category
Analytical Purpose

Security

Social
Law & Order
To examine the type of law and order gap / status (monitoring & surveillance) of a specific risk area with the person in charge / deployed.
Targeted Intervention
To access vulnerable types by location and vulnerable communities with household size.
Border
Inter-Dzongkhag Point of Entry (PoE)
To access geo-referenced PoEs of inter-Dzongkhags, which people commute as informal access (mostly aged old routes) and requires surveillance now.
International Point of Entry (PoE)
To access geo-referenced PoEs of international borders by authorized users and for deployment and better monitoring of surveillance and security.

Economy

Trade
Local production
To examine the type of local farm produces and quantity consumed, ability to supply or surplus. This information can be used for numerous policy interventions, including surplus optimization for value added cottage products, domestic trading and beyond.
POL
To examine the shortage and level of fossil fuels, LPG and lubricants stocking by location.
Retail & Wholesale
To examine the shortage and stocking of retail items, both essentials and normal items in the market by location and retailers.
Industry
Services
To access type of service industry by location and employment by nationality.
Import & Export
To access type of export by location and firms, and to access import types, raw materials and quantity consumed (monthly/yearly) by industry type (name) along with geo-referenced stockyard.

Preparedness

Surge Capacity
Facility
To access geo-referenced facility type and examine the capacity (in use and intake) details with focal person.
Transport
To access information on vehicles deployed and identified to be deployed in every facility and other task with driver details and vehicle type.
HR Surge
To access facility wise responsibility type and surge required with current deployed strength.
HR Pool
To examine Dzongkhag wise overall backup deployment plan with responsibility, designation and contact details.
Volunteer
To access Dzongkhag wise volunteer category and their area of interests, qualification and occupation with contact details.
Infra Status
To access location wise infrastructure coverage by type and to examine the functionality status.
Risk mapping
Risk Management
To examine the prevention, preparedness, response, mitigation and recovery strategies by risk types.
Risk Factors
To examine the risk factors by location and potential threats.
Emergency Responses
To archieve plans and strategies corresponding to calamity types, resource availability, assigned manpower and person in charge.
Disaster Relief Stocking
To access the disaster stocking items by store location under each administrative jurisdiction.
Note: Above all, the system shall also provide daily situation reporting and incident alerting for defined report viewers. The SOPs of all sectors and LG services along with their contingency plans and strategies are uploaded for references and archiving purposes.
6. Salient Features
Unlike many other online portals or systems serving Local Government levels, this SEP system shall have the following salient features:
Dashboard (summarized information based on SEP themes with daily situation reporting and alerts).
Navigate detail reports or information from the Dashboard for the executives/ decision makers.
Add/Edit/Delete data with accountability by person and contact details.
Location based information (geo-referenced) for any facility and services are available (however, access is defined, for instance the international Point of Entry can be viewed only by armed forces and higher authorities).
Every stocking of resources, facilities and services within the scope of this system shall facilitate team spirit, coordination and resource sharing in the region and across.
Facilitate social security information storing and kidu recipients (credential restricted).